We are so close — let's end polio now!
This online campaign comes at an important time in the fight to eradicate polio, which would be only the second human disease to be eradicated. Case numbers of the disease have never been lower, and only three countries (Nigeria, Afghanistan and Pakistan) have never stopped transmission of the wild poliovirus.
However, a funding gap means immunization campaigns are being cut in high-risk countries, leaving children more vulnerable to polio. If polio isn't stopped now, the disease could stage a comeback, affecting an estimated 200,000 children every year.
Rotary, a humanitarian service organization with nearly 34,000 clubs in more than 200 countries and geographical areas, made polio eradication its top priority in 1985. Rotary has since contributed US$1.2 billion, and its members have logged countless volunteer hours to help immunize more than two billion children in 122 countries.
Overall, remarkable progress has been achieved in the fight against polio. Since 1988, the number of polio cases has been reduced from 350,000 a year to fewer than 700 cases in 2011. The Americas were declared free from polio in 1994, the Western Pacific region in 2000, and Europe in 2002.
A highly infectious disease, polio still strikes children mainly under the age of five in parts of Africa and South Asia. Polio can cause paralysis and sometimes death. There is no cure for polio, but for as little as 60 cents worth of oral vaccine, a child can be protected from the disease for life.
Support a fundraiser
Want to fundraise for this cause?
Add your photo here!
Join the team
Rotary International and Bellevue Breakfast Rotary Club — a commitment to 'Service above Self'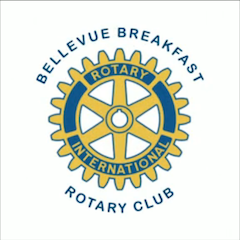 With 1.2 million members in more than 34,000 clubs worldwide, Rotary International is dedicated to volunteerism, high ethical standards and goodwill. Rotary International is the volunteer fundraising arm of the Global Polio Eradication Initiative—a public-private partnership that also includes the World Health Organization, the U.S. Centers for Disease Control and Prevention, UNICEF, and the Bill & Melinda Gates Foundation.
Chartered in 1985, the Bellevue Breakfast Rotary Club is home to more
than 100 community-minded individuals dedicated to serving above self
and participating in Rotary International's mission to promote
understanding, goodwill, and world peace.